I love to journal.  I write in the margins of books and bibles, I take sermon notes every week, I write in notebooks and journals all the time.  In fact, my first course here at Grace in Color is one where I teach you to create your own journal simply and inexpensively.  It's called Journal in 7,  and you can find it HERE.
I also like to journal creatively.  And one way to do that is with word strips.  What are these?  I'm glad you asked.  They are strips of paper or cardstock that are cut out (or outlined), written or typed on, and put on a page to add emphasis to what you are writing.  They can be colored paper or just white.  They can be physically cut out or digitally placed.  They can simply be outlined words or lines that become strips.  As with anything creative, your imagination is all that limits you.
This is one of the Creative Prompts in the Create Truth Art Challenge.  You can find it in Week One of that challenge HERE along with a brief devotion on worship.  This challenge is FREE to sign up for.  Each week there is a devotion and an art journaling prompt posted.  The challenge ran live from January through March of 2017, so you can go through the challenge week by week or at your own pace.  There are no rules!
Creative Challenge
Journal with word strips.
1. Use any background you want but add a few lines of journaling on strips of paper. You can type them out and print them (like I did), or you can simply cut (or tear… that's kind of cool) strips of paper and write directly on them.
2. Attach them anywhere on your page with glue or tape.
3. Feel free to add extra drawings, doodles, elements or other decorations.
My example is bright because I love color. #surprisesurprise
I actually used words from the worship song in the Truth prompt from Week One for my page but you can use scripture, a quote, a prayer or other journaling. Anything is great… as long as it's on paper strips and attached to your page somehow.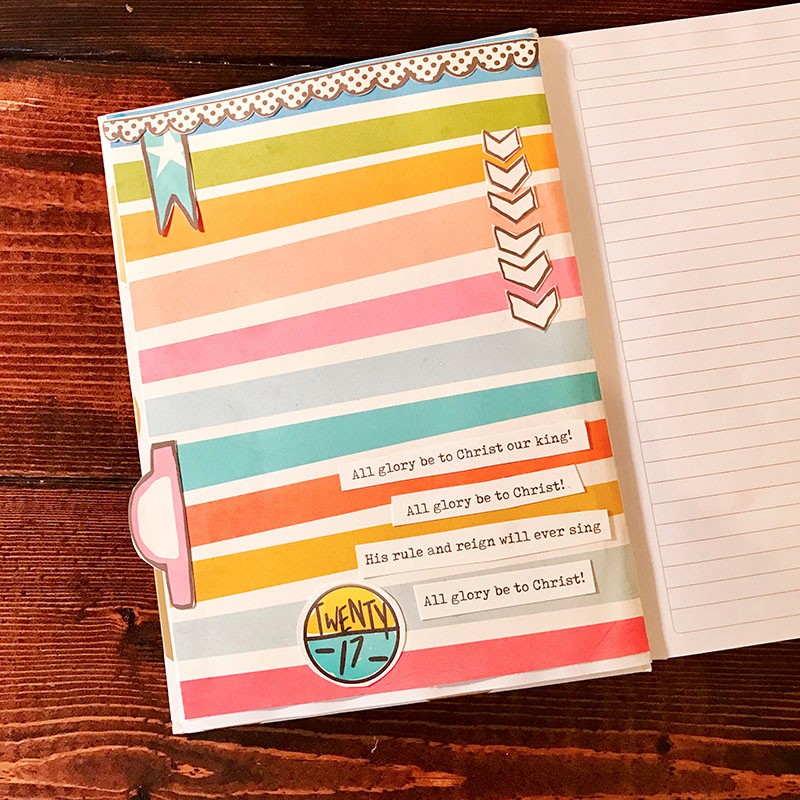 Credits: Storyteller January by Just Jaimee at The Lilypad
Here are two pages of word strips created with scripture from the Truth Prompt that you are welcome to use to get you started.  Click the images to download it for FREE to use in your projects.

Give it a try and see if it helps to add a bit of interest to your journaling and/or art journaling!  Holler in the comments below if you have any questions. And if you create something,  I'd LOVE to see.